Kashan Rugs
Origins of Magnificent Kashan Rugs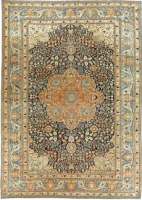 Located in the center of Iran in the Isfahan province, Kashan is one of the oldest Persian cities which gave birth to absolutely exquisite Kashan rugs, widely sought-after by tastemakers and design aficionados alike. By some accounts, although not all, Kashan was the place of origin of the Three Wise Men who followed the star that guided them to Bethlehem to witness the nativity of Jesus, as recounted in the Bible. True or not, such claim highlights the prestige of the city in the ancient times. Kashan rugs have been crafted in the esteemed weaving center since the 17th century during the reign of the Safavid dynasty, hoverer, according to many scholars, some of the smaller Kashan rugs made of silk date back to the early 16th century. These outstanding carpets embody the essence of top-notch Persian craftsmanship with their impeccable execution as well as sophisticated and gracious patterns. Many of Kashan rugs incorporate silk into their designs, with the foundation made usually of soft cotton. Nonetheless, the finest examples of Kashan rugs build upon pure silk which is applied both to the foundation and the pile. The knot count may range from 100 to over 800 knots per square inch for the most outstanding specimens. Although Kashan rugs incorporate a wide variety of motifs, the most popular ones are central medallions and Persian floral patterns with red, ivory, blue and soft green as prevailing hues. Well-made and magnificent, Kashan rugs are a treat to all lovers of timeless beauty and undisputable elegance.
Mesmerizing Designs of Kashan Rugs
Traditional antique Persian Kashan rugs have remained essentially unchanged for centuries with the earliest classical oriental carpets created for the 16th century Safavid Court. Appropriating design principles from Persian book bindings and miniatures, the existing decorative repertoire consists of central field patterns with endless or centralized repeats using cartouches or floral ornamentation. The designs of these antique Persian Kashan rugs and carpets successfully combine the ubiquitous central medallion with pendant systems, enhanced by corner spandrels and repeating floral compositions. Based upon an underlying grid system, antique Kashan rugs are composed of spiral arabesques ornamented with floral and foliate motifs. Western Persian centers such as Malayer and Senneh developed a reputation for complicated repeats of floral boteh while the finest traditional antique Kashan rugs of the nineteenth century were woven in the sophisticated city workshops of Kashan, Malayer and Senneh. Kashan became the center of the Persian silk industry with its artisans renowned for the silky quality of the wool rugs produced by them. The finest of antique Kashan rugs and carpets are known as Mohtashem, named for the most famous weaver from that city. The marvelous symmetry of such intricate rugs can only be fashioned by experienced artisans carefully following sophisticated cartoons. Classic antique Persian Kashan rugs bestow unparalleled warmth and elegance to any interior.
An Exceptional Collection of Kashan Carpets for Sale