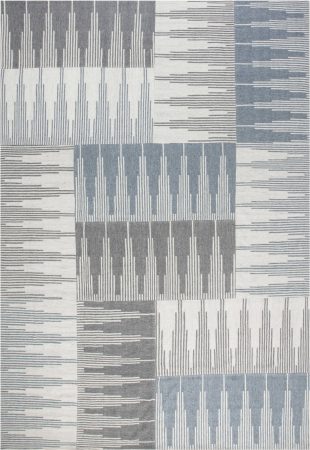 Geometric rugs are those that carry non-figurative patterns. It means their designs are full of abstract, geometric figures like triangles, rectangles or other polygons. They may carry circles, stripes or many different shapes at once. Geometric rugs come in a variety of colors. Some of them are minimalistic, others flaunt very bold and contrasting coloration.
The Chic of Geometric Rugs
Glamorous. Mesmerizing. Timeless. Such indeed are geometric rugs. Nothing adds a greater finishing touch to an interior than a perfectly matched carpet. And what may be better than the versatility of figures, the abstraction of design and the order of symmetry? After all, they say that mathematics is the queen of all sciences, is it not? There is no way of resisting the charm of angular elegance exuded by this kind of interior ornaments. They rely on clean, clear and orderly esthetics. Geometric carpets will convince even the most demanding connoisseurs of decorating, leaving them in awe. People tend to associate geometricism with futurism. Thus, it may come as a surprise to many that geometric rugs fit not only modern spaces.
Different Types of Geometric Rugs
The category of geometric rugs is vast, therefore, not so easy to put into stiff frames. It comprises of many different patterns, trends, and movements. Not to mention the considerable number of high-end designers involved. Geometric motifs are abstract, nonrepresentational shapes such as circles, lines, ellipses, triangles, rectangles or polygons. However, there is so much more depth and history behind them when we talk about antique and vintage rug symbols.
Scandinavian, especially Swedish rugs, is a model, a historical example of the use of geometry in design. There, a cross symbolizes a flower and a rhombus is a diamond. Every figure has its own distinctive meaning. Moreover, let's not forget Art Deco. This extremely influential style draws abundantly from geometry. Art Deco arranges figures in a way to obtain intricate, unobvious patterns, keeping them stylish at the same time. However, the most classic geometric carpets are tribal textiles. Moroccan rugs like Beni Ourains or kilims are exactly what we are talking about. Simplified motifs will match both boho and state-of-the-art spaces. Tribal geometric rugs are special because their designs don't look severe. Instead, they introduce angular elegance in a heartwarming version.
New geometric carpets are very often products of skilled designers. They are generally more minimalism-oriented yet it is not a rule. At DLB we pride ourselves on our collection of modern geometric rugs. You can get a custom geometric rug based on a sample, a designer project or make your own, original pattern. We are open to inspirations and suggestions as your satisfaction is our top priority.
The Style of Geometric Rugs
Geometric carpets have many faces. Each of them is worth attention and admiration. When combined with bold colors, they have the power of enlivening an interior. Those in toned, pastel hues may transform a room into a soothing oasis. No wonder they are in the spotlight among world's greatest designers. The designers pick them for their interior projects, but are also authors of some of those beauties. One of the brightest examples is Kim Alexandriuk, whose fabulous geometric rugs are the essence of angular chic. Let yourself get carried away by checked patterns, stripes or 'harlequins' and fall in love with geometric rugs.
An Exceptional Collection of Geometric Rugs for Sale