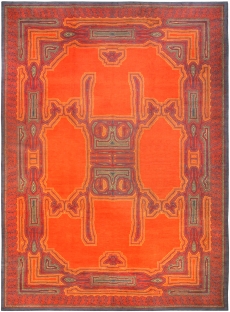 Viennese rugs were surely inspired in the cultural city of Vienna the City of Dreams. Vienna is the largest city of Austria which is infamous for their great palaces, beautiful castles, and intriguing cemeteries, as well as other architectural works. Austria's beautiful castles include that of Castle Liechtenstein, Festung Hohensalzburg, Schloß Artstetten, and Burg Hohenwerfen. One of the oldest cathedrals is Minoritenkirche in Vienna. Zentralfriedhof is a world's favorite cemetery of which the Imperial Crypt holds the Habsburgs lineage.
Why wouldn't anyone behold the beautiful antique rugs from Vienna, as Vienna embraced musical composers Mozart, Beethoven, Brahms, and Haydn's Culture and art are a part of Vienna's history with exquisite performing art theatres.
The Viennese rugs can surely be attributed to Rudolf Eitelberger, the forefather of the University of Vienna. He held a particular interest in art and studied it during the Vormärz era, which started at the conclusion of the Romanticism era. With grand gardens and palaces throughout Vienna, the Viennese rugs are by far simply eloquent.
These antique rugs are inspired by some of Vienna's architectural designs of castles and palaces. It is shown in the patterns how symmetrical their shapes are. Many of the rugs are hinted with the royal vibrant colors of gold and orange and deep blues and purples.
The Antique Viennese Rugs are perfectly designed and kept, meant for any collector of 20th century fine interior décor.