Mid Century Rugs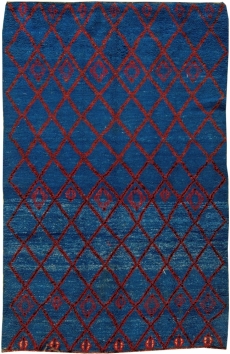 Interior design and product design of the mid 20th century have become iconic representations of modern design. Vintage rugs are also included as icons of design of the mid 20th century. Rugs of this period, 1940 through the 1960's include Moroccan, French Modernist and Scandinavians. The most sought after being Swedish rugs designed by textile artists such as Marta Maas-Fjetterstrom, Barbro Nilsson and Ingrid Dessau.
Mid Century Rugs from Sweeden
These Swedish rugs are easily identified as they are often signed. The initials of the designer can be found woven into the edge of the rug. MMF identifies Marta Maas-Fjetterstrom as the designer and when accompanied by the letters AB identifies the MMF facility in Bastaad as the studio where the rug was woven.
Swedish rugs were woven as very intricate Tapestry weaves as well as Flat weaves. Swedish Rya rugs are are an early version of contemporary shag rugs and have an elongated wool pile that resembles fur. The Swedish mid-century rugs have a sophisticated folk art sensibility and the craftsmanship and skill is evident. The women who wove and designed these mid century rugs are respected as innovators of design and as highly skilled technicians.
Vintage rugs often incorporate graphic and geometric design motifs rendered in a large scale and in bold colors. The designs reflect the art of the time. Think Abstract Expressionism, Jackson Pollack, De Kooning or Mark Rothko. The appearance of a free hand is deceiving as the execution is complicated and time consuming. Minimalism is implied because of the restrain.
Modern Mid Century Rugs
Doris Leslie Blau has an eclectic collection of superb creations with many perfect examples of Mid Century rugs which inspire many an interior designer. Every designer knows that one beautiful rug can be as important as a beloved painting and often have even more visual impact. Mid Century Rugs are not just floor coverings and definitely not just a pragmatic way of keeping ones feet insulated from a cold floor. Mid century rugs are woven art; art made with love, whichever century they are created in; often unique in design and often as precious as any other piece of art. Yet somehow rugs are different, however beautiful, just because they are rugs and have their roots in ever so humble beginnings. Rugs may have started as wall hangings, the warmest of blankets and coverlets for beds but when their civilisation became richer in materials the wealthiest individuals would demonstrate their high status with even more beautiful adornments for their home: decorated bowls instead of practical pots, jewellery instead of just pins to hold their clothes together and wonderful rugs to walk on instead of straw or beaten mud. So through their history these simple objects have echoed human kind's development from humble diggers of soil with their basic course weaves and plain colour to richly complicated beings who now have an amazing choice of rug designs.