Custom Rugs - Custom Designs from Doris Leslie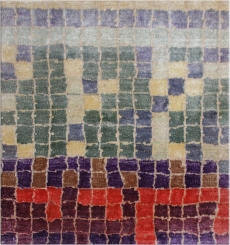 Doris Leslie Blau is one of the oldest and reputed rugs manufacturer and supplier who have been supplying traditional and new generation rugs and carpets for the last five decades. We are the main suppliers for the top architectural and interior designers across the world and many of our traditional rugs and carpets are droning the walls and floors of celebrities throughout the world. Our specialization is in making rugs as per the requirements of the customers known and these rugs are known as custom rugs. These rugs are either handmade or machine made and can be chosen from a wide range of designs, shapes and sizes and made with variety of materials like wool, jute, silk and wool blends.
The advantages of a custom rug is that it becomes an ideal choice over other rugs because they are tailor made as per your requirements and you have full control over its patterns, design, color and shapes. Another important feature is that nobody in the whole world will have the same design and pattern as you rug.
Rug purchase is a difficult task if you are not familiar with it and we are the only company which offers a consulting service and help the customer to choose a rug of his choice. Our interior designers visit the customer's premises and after studying the décor of the room and as per the customer's imagination suggest a proper solution which will fit into his budget.
We also supply a wide range of antique rugs and carpets other than our custom rugs. Our ancient oriental rugs are the most sought after product by interior designers, architects and antique carpet collector's worldwide. Our pricing structure varies as per the different weaves in natural colors and dyed colors. All our custom carpets are made with mountain grass, sea grass, sisal and wool and each type of rugs have different weaves which shows the uniqueness of the rug.
The custom rugs should be such that every time you see it you get goose bumps and there is awakening in your mind. It should be the first thing you see when you enter your home and the last thing to see when you leave the home. These rugs are either handmade or machine made and handmade rugs are costlier than machine made rugs. This is due to handmade knots, erratic design and the unique look in handmade rugs whereas in machine made rug everything will be even.
Doris Leslie Blau is having its state of the art showroom in New York and has an endless list of customers from around the world which includes the top hundred interior designers and architects from the US. We feel honored to say that some of our exquisite custom rugs are droning the walls of famous celebrities, famous palaces and politicians all over the world. We are the only company which has a customer support division which works round the clock attending to customer queries regarding custom rugs from all over the world.