Period Inspired Rugs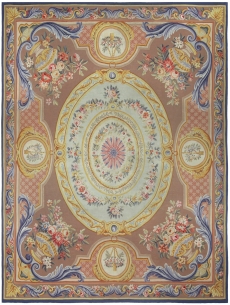 Among our custom rug options and in our current inventory, our period-inspired rugs have either been inspired by or closely reproduce antique or vintage rug designs. From architectural Aubusson carpets and all-over floral Sultanabad rugs to abstract modern designs and relaxed graphic Moroccans Rugs, our period-inspired rugs are beautiful, refreshing, and durable. Available in various colors, qualities and techniques, each of the period-inspired rugs captures the history behind the design.
The vastness of our weaves and techniques for period-inspired rugs and our ability to capture many design inspirations often makes a period-inspired rug an excellent choice for a designer who cannot find the perfect antique rug due to its size, color or pattern or who cannot choose an original antique rug due to budget limitations.