Custom Rugs & Contemporary Rugs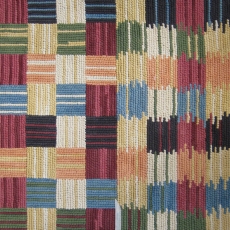 At the forefront of the Doris Leslie Blau Gallery's business is our recognition that a carpet or rug is frequently the most important component of any interior; its situation in a room can be likened to the hanging of a painting a room—it gives the space a personality. In light of the significance of floor imagery, the Doris Leslie Blau Gallery is dedicated to aiding our clients in their search for the perfect new or custom rug by offering an extensive array of contemporary rugs and a complerely flexible bespoke rug service.
As a current market leader, The Doris Leslie Blau Gallery has been a primary destination for new and custom rugs for ten years. Within the custom rug sector of the design market, our chief endeavor has been to present our clients with the most stunning and complete selection of unique and eco-friendly custom rug options. Whether in search of an Tibetan allover rug, a variation on an 17th century design, a sophisticated modern design, or a lighthearted design to match an eccentric color scheme, we are confident in our ability to create an appropriate bespoke rug to fit the character of any room.
When designing a custom rug, the client has absolute freedom personalize a rug by changing its color, size, material, design, shape, period style and technique to meet their requirements. We have a broad array of designs that can be customized or we can make use of any colors or patterns presented to us to create a truly original luxury rug. For this service we guide our clients every step of the way—from creating dyes to replicate any color palette to generating samples of the designs.
Bespoke Rugs
The dedicated staff at Doris Leslie Blau is constantly exploring new pile lengths and textures for nearly all of our designs. Whether we are making a high-low, hand-tufted, or flat woven rug, we continually encourage our clients to collaborate with us as part of our team of designers, textile artists, and factories to locate the correct fibers and techniques for the design patterns. Selected with the greatest care, the custom artisan rugs are made to highlight the beauty and integrity of the natural materials and are individually crafted to the premier standards.
In addition to the bespoke carpet choices, we also have a diverse selection of new rugs and carpets available, which also serve as excellent samples of some of our custom designs. Whether you choose a new or bespoke rug, we are confident in its resilience to withstand decades of use and we are certain that its Doris Leslie Blau Gallery pedigree will only augment the value of the rug over time. The contemporary rugs for sale in our gallery or the bespoke rug that you may order will surely provide an exceptional vibrancy and life to any room.