High-Quality Antique Turkish Rugs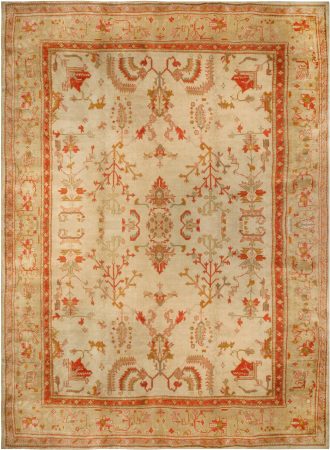 Turkish rugs (Anatolian rugs) are decorative textiles woven in the territory of Turkey. They fall into various subcategories depending on the particular region or weaving center. The most commonly applied knot in these carpets is Ghiordes or symmetric knot. Flat-woven Turkish rugs are kilims. Next to Persian rugs, they are among the finest in the world. They carry outstanding Oriental designs, a lot of which draws from tribal art. In Turkish rugs, you will find high-quality materials, mostly wool.
Turkish rugs are one of the most beautiful and sought-after floor coverings in the world. Vintage Turkish rugs, like flat-woven kilims, are extremely popular among foreign tourists. Antique carpets from Turkish are in a class of their own. In addition to fabulous appearance, their execution is definitely worth noticing. Here we should list the qualitative materials (mostly wool) and centuries-old weaving techniques. As a result, Antique Turkish rugs may have more than 300 knots per square inch.
Types of Turkish rugs
Borlou
Ghiordes
Hereke
Kayseri
Oushak
Sivas
Tulu
Silk Turkish Rugs
Silk Turkish rugs are the essence of softness and sheen. They are also quite common, however not as much as wool carpets. Avanos carpets rendered in silk may surprise you with religious designs on them. The bright red background of such textiles carries 'mosca' (a protective amulet) and has golden yellow borders. Ingenious patterns adorn the whole field so that it draws one's attention immediately.
On the other hand, you will easily recognize Ürgüp rugs by their colors. The prevalent ones are brown gold, bright orange, and yellow. The 'Ürgüp red' field may flaunt medallions, palmettes and various floral motifs. In turn, silk rugs from Hereke translate to sophisticated designs of trees and birds in a pale pastel palette of colors.
Vintage Turkish Rugs
Kayseri, formerly called Caesarea, is a rug production hub in central Turkey (Anatolia). Central Anatolia has been the core area of carpet manufacturing in this country for centuries. Other popular weaving regions in this part of Anatolia are Konya, Niğde, and Sivas. All of them differ slightly in terms of vintage Turkish rug designs and traditions.
Nonetheless, you may recognize Kayseri rugs by their fine weave. Due to their refined workmanship and general renown, they go for export. A Kayseri vintage rug has a woolen pile on a cotton foundation. It often imitates the patterns from Turkish rugs from nearby towns, like Hereke, Kum-Kapı Ürgüp, Avanos or İncesu. The vast majority of Kayseri vintage rugs use natural dyes. In means, the colors come from purely natural not artificial sources. For instance, brown is from walnuts, yellow – from saffron. Therefore, they are more eco-friendly, vivid and classy. Interestingly enough, we can distinguish over 200 floral patterns on Kayseri carpets. All in all, there is definitely something magical in Anatolian vintage Turkish rugs. No wonder they evoke strong emotions among aficionados of design.
Large Turkish Rugs
Large Turkish rugs are perfect warmth bringers and space-definers for ample interiors. Thus, many decor fans are after them. Turkey has a long weaving tradition, which shows in the expertise of its weavers. As a result, the popularity of Turkish rugs never seems to falter. Their lush, elegant colors and elaborate patterns tempt carpet aficionados and collectors. People are often ready to travel long distances to purchase their dream Vintage Turkish rug. Luckily, our clients can find a large Turkish rug with much less effort. All you have to do is to visit Doris Leslie Blau.
An Exceptional Collection of Antique Turkish Rugs for Sale
Please visit Doris Leslie Blau Showroom: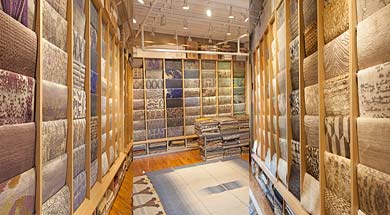 DLB @ Interior Arts Building (Main Showroom)
306 East 61st Street, 7th Floor
New York, NY 10065