History of Agra Rugs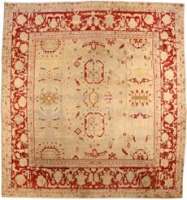 During the sixteenth century the city of Agra, famed for the Taj Mahal, was the capital of the Mughal Empire and the cultural center of Indian art forms such as inlaid stonework, jewelry, miniature paintings, architecture, textile design and rug & carpet weaving. In nineteenth century northern India, the art of oriental carpet weaving as a commercial enterprise was revived with stunning results. Since the golden age of Mughal India the production of rugs and carpets had virtually disappeared until it was regenerated under British rule. Prisoners in the country's jails – including those of Lahore, Yeraoda and Montgomery, as well as Agra – wove some of the most beautiful carpets. Designs for these antique Agra rugs were often based upon classical Persian pieces from the sixteenth and seventeenth century especially antique rugs and carpets in the collection of the Maharajah of Jaipur.
Many of these exceptional antique Agra jail carpets were commissioned by special order and found their way, via the powerful Anglo-Indian trading companies of the time, to the great houses of Britain and Europe. Antique Indian Agra rugs and carpets remain highly collectible, blending into both traditional and contemporary settings.
Design of Antique Agra Rugs
Although distinguished by captivating history and indisputably mesmerizing appearance, antique Agra rugs are hard to tell apart from other examples of fine Indian rugs. In fact, these fascinating floor coverings are even difficult to classify as they vary considerably is terms of size, design and composition. Nonetheless, some of the most impressive and breathtaking examples of paramount craftsmanship has been seen on antique Agra rugs. In general, antique Agra rugs most often exhibit open fields with minor medallions and spandrels, surrounded by tasteful floral borders. However, there are many instances of antique Agra rugs with all-over, dense and highly decorative patterns. Floral tendrils, angular vines and stars are frequent guests on masterfully executed fields of Agra carpets. These Indian weaving wonders build on utterly elegant color palette of olive greens, blues, yellows, reds and ivory. Next to awe-inspiring looks, antique Agra rugs are above all characterized by the finesse of knotting. Each piece is thoroughly hand-knotted of the first-rate wool (sometimes with the admixture of silk, or even entirely made of silk) in accordance with old and refined techniques. High knot density allowed skillful artisans to create all breathtaking, nature-related patterns which undoubtedly have a chance to adorn contemporary interior arrangements due to their timeless elegance and versatile appeal.
An Exceptional Collection of Agra Carpets for Sale