Sarouk Rugs
Antique Sarouk Rugs Provide Luxurious Elegance
Persian rugs are known for their richness and beauty. The characteristics and quality of rugs differ frequently particularly when created in different areas. From the late 1800s to early 1900s, in the southwestern portion of Iran, weavers created Sarouk carpets.
Antique Sarouk rugs derive their name from a village found twenty miles north of Arak, Iran. While production lasted only a few decades, the weavers were extremely productive, and the rugs remain notable for their luxury and excellent quality.
Structure of Sarouk Rugs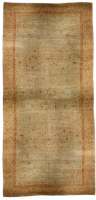 Antique Sarouk rugs have a high pile and are generally at least two layers thick. This thickness contributes to the rugs unusual durability, which can be perfect for anyone searching for a highly durable antique carpet. These rugs were typically created with blue weft thread. Coloring of these rugs usually consist of a blue background in most cases, with cream, bright blue, pale red, orange, green, or brown creating the details and patterns. Many of these rugs have a focal, central design and a Herati pattern. The designs are usually curvilinear. Most of these rugs are large, and are frequently referred to as room-size rugs. Interestingly, the weavers of the rugs most often used Persian knotting, which is asymmetrical, but occasionally some Sarouk carpets employ Turkish knots, which are symmetrical. The quality of each rug may be considered by the tightness of the weaving and the knots per square inch. As the a general rule, the more knots the higher the quality.
While Persian rugs are known for beauty and opulence, antique Sarouk rugs stand out as examples of the best in the category. The rugs are thick enough to endure much abuse and you can rest assured there rarely will be damage or ware. The demand for these rugs is quite high as buyers appreciate the beauty, comfort, and durability of Sarouk carpets. These rugs are also an object of interest for museums and collectors.
An Exceptional Collection of Sarouk Carpets for Sale