Joshegan Rugs
Antique Joshegan Rugs Demonstrate Tradition of Persian Tapestry
Rugs hailing from the Joshegan locale in Iran provide some of the oldest products of Persian tapestry. Prior to the rise in popularity of tapestries from Tehran, Joshegan tapestries were some of the most popular and widespread, largely due to ancient paths of travel. The long history of Joshegan rugs demonstrates the commitment to the preservation of culture, tradition, and quality. Antique Joshegan rugs demonstrate the beauty and workmanship of traditional Persian tapestry.
Design and Structure of Joshegan Rugs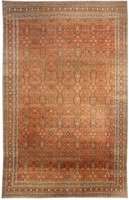 Antique Joshegan rugs are traditional in practically every way relevant to Persian tapestry. They range in size most are four by six feet, but some exist in larger dimensions. Some of the largest Persian rugs are Joshegan rugs. The colors used in the weaving are generally natural dyes, and they blend beautifully together. The designs and patterns are generally quite intricate, which is also typical for Persian rugs. Another traditional Persian feature is the lack of empty color in the rug itself. Intricate design covers each Joshegan rug. The weaving technique used in these rugs is also Persian, which uses hand-made asymmetrical knots. The qualities of Joshegan rugs vary depending on the materials, age, and knot per square inch of the individual carpet. Most agree that more knots per square inch correlates to higher quality. Quality may also be evaluated based on the clarity of the pattern. Tighter knitted patterns will have a higher level of clarity. Antique Joshegan rugs are traditional and beautiful in terms of size, color, weaving, and quality.
When seeking a traditional, high-quality Persian rug, antique Joshegan rugs exemplify tradition, beauty, and workmanship in every way. These rugs often serve as some of the oldest examples of Persian tapestry in the world, and tapestries generally become more valuable over time. These high quality rugs serve as a tangible demonstration of the history and culture of Persian rug creation.
An Exceptional Collection of Joshegan Carpets for Sale