Top Destination in New York for Antique, Vintage & Modern Rugs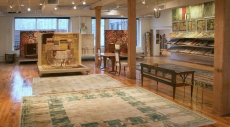 Are you looking for the finest quality antique and vintage carpets and rugs? You should be in New York, because if there is any place in the U.S that deserves to be called the Oriental rug capital of the nation, it's New York City.
One of the oldest and the most prominent rug galleries in the city is Doris Leslie Blau. Established in 1965, the gallery is located at 306 East 61st Street in NYC and attracts thousands of rug lovers, collectors and interior designers from all over the world with its extensive collection of antique, vintage and contemporary rugs. The gallery has rugs of different sizes, styles and eras, representing many regions around the world with a well-known rug making tradition, including Turkey, Persia (Iran), India, China and Scandinavia.
Mrs. Doris Blau, the founder of the gallery, is a legendary name in the world of rug collecting. From the beginning, she was determined to create something different, something a bit offbeat, which is evident from the outstanding collection of avant-garde pieces she managed to build over the years. Even today, years after she handed over the reins of the company to her worthy successor, Mr. Nader Bolour, the gallery continues to operate on the same principles that made it such a popular destination for rug buyers.
A specialist dealer in oriental and western rugs and carpets, Doris Leslie Blau's impressive collection of antique rugs include rare Turkish, Persian and Indian masterpieces, many of which date back to the Medieval Age. Some of these rugs are so rare that no more than a few exist in the entire world. These specimens are so highly prized that collectors are willing to part with unimaginable amounts of money for them. The fact that the Doris Leslie Blau gallery has managed to create such a fine collection, speaks volumes about the expertise and dedication of those who run the company.
Oriental rugs and carpets are highly valued for their sublime beauty, exotic patterns, and remarkable strength and durability. The beautiful patterns and motifs woven on them often tell stories from the history and mythology of the people who made them. They may depict scenes from historical battles, hunting expeditions, royal courts, or simply mosques, palaces, people, flowers, animals and plants.
Among oriental rugs, the most sought after are antique Persian, Turkish and Moghul (Indian) rugs. These rugs are distinguished by their distinctive designs, attention to detail, high quality fabrics and high density of knots. Made using only the highest quality wool, they have a soft texture that makes touching them like touching a silk fabric. Really old antique rugs are very rare and command a very high price.
Since most of the antique oriental rugs have been bought by Western collectors, very few, if any, can be found in their place of origin. In fact, the two largest markets for genuine antique rugs are New York and London. In New York,Doris Leslie Blau has one of the largest and best collections of antique Persian, Turkish and Indian rugs. The gallery also has antique rugs from Europe (France, England, Spain, Austria, Bessarabia) and the Caucasus region.
Vintage rugs are another specialty of Doris Leslie Blau. The gallery has a fine collection of vintage rugs from Scandinavia, Morocco, China, Spain and other places around the world. The early 20th Century was a great time for experiments and innovations in arts, popular culture, science and technology. Some notable designs from the period include Art Nouveau, Art Deco, Arts and Crafts and Bauhaus Style.
Art Nouveau is a decorative style that is characterized by intricate lines and flowing curves based on natural forms, such as plants and flowers. This highly ornamental style of decoration gained prominence in the 1890s and was popular in Western Europe and North America until the First World War. It was used in everything from art to jewelry to architecture. Rugs based on the Art Nouveau style have intricate and beautiful patterns.
Popular in the period between the two world wars, Art Deco is a decorative style that is characterized by bright colored geometric shapes that are precisely and boldly drawn. Used in household objects and architecture, it was influenced by the then rapidly rising automobile and aviation industries. Rugs based on the Art Deco style have patterns made of bold geometric lines and bright colors.
Bauhaus was an art school that operated in Germany from 1919 until 1933. Its teachings focused on combining fine arts with craft to create a total work of art in which all forms of art, including architecture, would be brought together. The school proposed combining aesthetics with functionality and put great emphasis on simplicity, clarity and symmetry of structures. One of the most influential art schools of the 20th century, Bauhaus became the cornerstone of Scandinavian design, which emerged in the 1950s and continues to be popular today.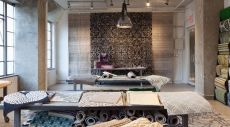 Doris Leslie Blau is not only about antique and vintage rugs. The gallery also has an extensive collection of modern rugs. These include contemporary rugs, traditional European inspired rugs, traditional oriental inspired rugs, Swedish rugs inspired by traditional Bauhaus designs, and Art Deco style rugs. Modern rugs are characterized by a superb combination of minimalism, beauty and functionality.
Custom rugs are another area that Doris Leslie Blau excels in. Today's style savvy customers want more than the carpets and rugs they can buy off the shelves. They want rugs custom designed for their unique needs. They want to choose the materials, colors, patterns, texture, size and shape of the rugs to complement the existing or intended décor of their room. The gallery's designers and sales consultants are well versed in the needs and tastes of the customers to give them exactly what they want.
With such a wide range of options to choose from, it's no wonder that Doris Leslie Blau has become the destination of choice for carpet lovers and collectors from all over the world. To cater to the exquisite taste of its loyal and growing customer base, the gallery focuses on only the best quality antique, vintage and modern rugs.
Doris Leslie Blau doesn't just sell carpets and rugs, the company tirelessly works to bridge the gap between art, design and architecture. Carpets and rugs play an important role in modern interior design. Since a room is built from the floor up, they are the foundation of an interior design project. They add warmth and comfort to the cold and hard concrete walls and marble floors. With their eye-catching colors and patterns, they help create the desired ambience in any living space. Doris Leslie Blau works intimately with interior designers and decorators to help turn their clients'homes into a work of art.
From decades of experience selling rugs and carpets, the staff at the Doris Leslie Blau know the value of assisting customers in finding the rugs and carpets that fit perfectly in their budget and timeframe. Step into the gallery and you will be presented with a wide variety of antique, vintage and modern rugs that are within an affordable price range. The company believes in providing the highest standards of service to everyone. This is the reason the gallery has an ever growing list of satisfied customers who keep coming back for more.
To cater to an increasing number of online shoppers, Doris Leslie Blau has a highly focused and user-friendly website. The website has an extensive collection of all types of antique, vintage and modern rugs and carpets available at the company's store. Shoppers can search for the type, size, colors, patterns, texture and style from the comfort of their home. Through Doris Leslie Blau's blog, shoppers can read highly informative articles that give them an in-depth knowledge of the rugs and carpets they are looking for.
You can access the gallery's website at www.dorisleslieblau.com