The Marriage of Art and Design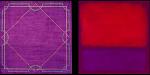 The marriage of art and design is evident in the correlation between antique rugs and fine art.
The following rugs are all essentially squares and when placed side by side with select artworks we see not only a similar use of color but also a similar equality in scale and proportion. In actuality rugs that are square bring to life a visual presence of art on the floor.
A rug design from the 1930's inspired by Andre Arbus is as minimalist as a Rothko. See the rug…
An Early 20th Century English Needlework rug has an intertwined pattern that is ironically mirrored in a work by Salvador Dali. See the rug…
A late 19th century Persian Kirman shares a balance of light and dark with William Turners "Light and Color" See the rug…
Another Kirman rug Circa 1900 places a square within a square as does Gustav Klimt's portrait painting. See the rug…
A hooked rug circa 1930 shares modern angles with Wassily Kandinsky's "Blue Circle "1922. See the rug…
The Floral Border on this Chinese rug circa 1920 appears to reflect onto the central field reminiscent of Monet's Water Lilies. See the rug…
An Art Deco Rug Circa 1920 uses geometric shapes to define space while Robert Rauschenberg's Interior 1956 seems to do exactly the same thing. See the rug…
An early 20th century Turkish Hereke rug uses neutral, slightly curved shapes to create an overall design that repeats itself in a ½ drop pattern creating a subtle rhythm while the circular pattern in a work by Lucio Fontana seems to have formed naturally. See the rug…
A mid 20th century Art Deco rug circa 1950 uses architectural lines that are contrasting tonals to form a modern vertical design the same way the painting by Robert Rymar uses clearly defined brushstrokes to create a similar linear pattern. See the rug…
A Samarkand Rug Circa 1900 uses warm colors with white to soften a dark border while Franz Kline's work Black Reflection 1956 is a harsher use of similar colors and contrasts. See the rug…
A late 19th century Persian Sultanabad Rug Circa 1880 with Autumn neutral shades creates a traditional moody landscape when looked at alongside a painted landscape by Carl Blechen 1830 See the rug…
An elegant French Aubusson Rug Circa defines space with elements that build a totem like structure within a frame as does Victor Vasarely's painting Gestalt 6 1970 See the rug…
A pastel palette of an Indian Dhurrie rug Circa 1940 fills the field within a linear border dotted with dark lines mimics the pastel flowers that dot a dark background in Andy Warhol's work Flowers 1964. See the rug…
A Turkish Rug Circa 1920 utilizes similar shapes and angles as George Braque's Little Normandy 1909 See the rug…
A rug designed by Charles Francis Voysey Circa 1920 uses light against dark to illustrate the beauty of a floral design as does This painting by Gustav Klimt "Country Garden With Sunflowers." See the rug…
A Vintage Moroccan Rug Circa 1940 layers tone on tone in a graphic pattern where Josef Albers creates a study of the color yellow in a tone on tone layering of squares. See the rug…
A Persian Sultanabad Rug Circa 1880 splatters its design on a warm rust red field as Henri Matisse created the Red Studio 1911 showing the objects splattered around the room. See the rug…
The shapes that create a uniform pattern in a Samarkand Rug Circa 1920 become symbolic of elements in nature when placed side by side with Vincent Van Gogh's painting "Willows at Sunset" 1888 See the rug…
A finely woven Indian Rug Circa 1900 has an abrashed field with delicate light fluid shapes that seem to dance over it when situated with Edgar Degas's "Dancers" 1877 See the rug…